The supply of capital for large cap opportunities in Africa is outstripping the demand for capital.  At the same time, small and mid-caps are underfunded across the continent, with the exception of North Africa.  This keeps the price within a lower range as competition among investors is lower.
"Smaller sized transactions are priced similarly to global levels, while large transactions are priced lower in Africa," says Rory Ord, head of independent valuation at RisCura.
For the period 2006 to 2014 there was an average of 32 African private equity deals per year at a generally steady level of pricing over time. This is according to the 2015 Bright Africa report.
In general, it can be seen that African deals in the 2.5x-5x price grouping significantly outnumber global deals; while 79% of global deals and 62% of African deals occur in the more expensive price groupings (5x+).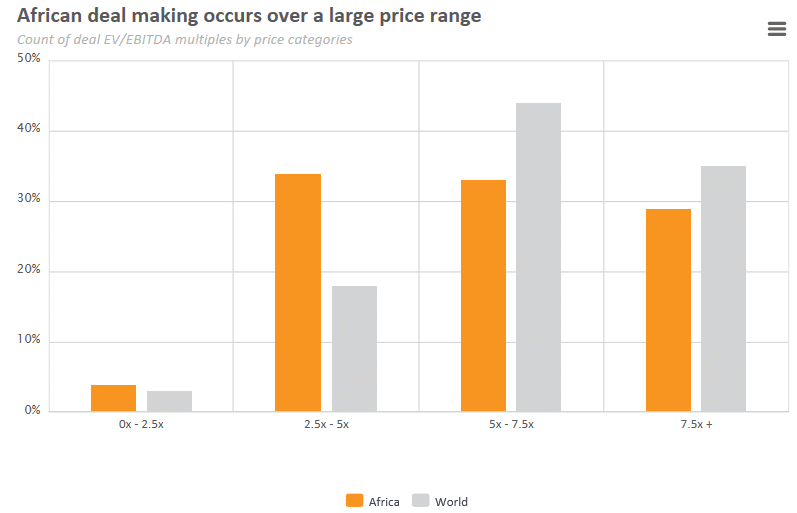 Source: RisCura's Bright Africa report
"This lower pricing of African deals is the result of many factors including higher risk perceptions and lower debt availability in African markets," says Ord.
Interestingly there is a relatively small range of prices between sectors, from the Energy sector with a pricing multiple of 4.72x to the Consumer Staples sector with a multiple of 6.6x.
The average size of transactions that are executed in the Healthcare, Consumer Staples and Information Technology sectors, are relatively small in contrast to large transactions in the Energy and Telecoms industries.
The supply and demand for capital in the Real Estate and Extractives industries is relatively balanced, preventing undue upward or downward pressure on pricing. Infrastructure is still demanding more capital than is being supplied, keeping prices low.
Debt in deals
The area where African deals differ markedly from other parts of the world is the use of debt as part of the financing of deals. Unsurprisingly, African debt markets are relatively underdeveloped, with the exception of South Africa, which results in difficulty sourcing debt funding for deals. Consequently, African private equity deals have used an average of approximately 1.2x earnings in debt financing over the past four years, compared to approximately 5.3x in the US.
The use of debt across all deal sizes in Africa is far lower than globally, with the largest deals averaging only 3.24x Debt/EBITDA. Even deals involving companies with enterprise values of over US$250m are only 37% debt-financed compared to the global average of 60%.
This is due to a number of factors including poor access to debt markets in parts of the continent, the relative risk aversion of South African banks and generally high interest rates across the continent.
"This very low level of debt means that these deals do not rely on leverage for returns," says Ord.
The use of debt in Africa was higher in 2007 when large deals were still being done with debt in South Africa. In the interim, however, debt levels have declined and have not fully recovered. In contrast, debt multiples in the US have recovered significantly since the global dip in 2009, and appear to be the main driver behind increased purchase price multiples in 2013.

"Interestingly, in 2014 the use of debt in US transactions has declined, causing a decline in US deal prices, while at the same time, Africa's pricing has increased despite using even lower levels of debt funding," Ord says.
The balance between the supply and demand for both debt and equity funding remain one of the driving factors behind investment into Africa. The increase in interest in the continent has definitely resulted in an increased inflow of capital; however the matching of investment opportunities to investor needs remains a challenge.
The low access to debt in Africa inhibits the equity returns that could be earned on the continent, but in turn also results in significantly lower financial risk, which could prove attractive in a post global financial crises world where high levels of debt are viewed with much more caution.
Media contacts
For media enquiries, please contact Courtney Atkinson via email or on +27 (0)21 673 6999.