Once the COVID-19 pandemic is under control, the resumption of economic activity in Africa could result in a compelling story for investors. According to the IMF, GDP growth in both West Africa and East Africa will start outstripping growth in developed countries from next year, and from 2023 the continent overtake developed countries.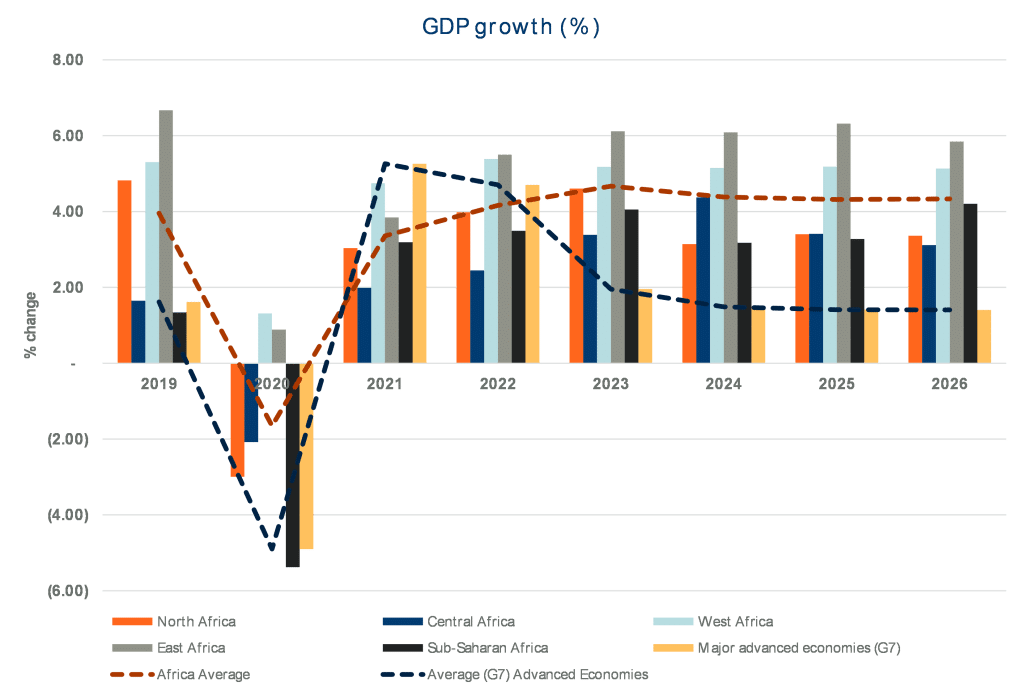 Source: IMF, RisCura Analysis
Typically seen solely as a source of natural resources and hard commodities, Africa is rapidly diversifying its economy into the ICT sector, and with the help of increased private investment its future now lies in innovation and technology.
The African Development Bank says the COVID-19 pandemic triggered the worst recession in more than half a century. Yet, despite this economic shock, 2020 was a stand-out year for private capital fundraising in Africa. According to the Partech Africa Venture Capital report, US$1.43billion was raised for venture capital investment opportunities, signifying a 44% increase on the previous year (pre-pandemic).
Technology and financial inclusion are significant themes attracting the attention of private capital investors, with 25% of the venture capital raised in 2020 dedicated to Fintech companies. Financial inclusivity, technology, and digitisation are beneficiaries of entrenched trends. These include rapid urbanisation, and the fact that Africa's large population of young people not only embraces but compels technology-driven innovation.
Fintech firms that have based their business models primarily on electronic payments, mobile money, and technology-enabled micro-lending and savings are winning strong consumer support. In addition, the conscious decision by many Fintech players to avoid any form of deposit taking has saved them regulatory cost and compliance burden. Instead, many are capital-light businesses (no brick-and-mortar branches) leveraging technology and the large network of mobile telephone companies to expand their businesses quickly.
Fawry is the third African start-up to reach unicorn status on the continent and the first one to do so after going public on an African stock exchange. Unicorn status typically means that a company has reached a value of over US$1 billion. Jumia (Nigeria) reached unicorn status after listing on the New York Stock Exchange (NYSE), and Interswitch (Nigeria) achieved unicorn status after Visa acquired a minority stake. More recently, IHS Towers launched its IPO on the NYSE in October 2021, at a valuation of between US$7billion and US$8billion.
The demonstrable value un-locked by these companies speaks to the change in sentiment by African companies towards African public markets as opposed to developed markets. The excess liquidity in developed markets presents a compelling case for African companies to list there and tap into this. As a result, African public markets have remained sluggish, with valuations abnormally discounted compared to developed markets.
Forward Price-Earnings Ratio (MSCI Africa ex-ZA "Orange" vs. MSCI World Index "Blue."
Economic potential depends on vaccinations
Achieving Africa's potential will, however, depend on the speed of its vaccination rollouts. While countries like the United Kingdom and the United States were laggards in their initial response to the pandemic, the speed of economic recovery was evident once they instituted mass vaccination campaigns.
Using the metric: "share of people fully vaccinated against COVID-19", Africa's 6.2% compares poorly to the current world measure of 40%. However, broader African economic recovery will remain anchored to the pace of rollout across the three largest economies – Nigeria, South Africa and Egypt. According to World in Data, Nigeria has struggled with its vaccine rollout, recording only 1.46% of its population as fully vaccinated. South Africa and Egypt are faring better, at 21% and 11%, respectively. Mauritius stands out as an exemplar for the continent, recording 67% of its population as fully vaccinated.
Data from developed economies confirms that vaccines are critical to curbing instances of hospitalisation and fatalities. Attaining herd immunity will accelerate Africa's trade and economic activity and minimise the possibility of further lengthy and severe restrictions, which would impede economic recovery.
The secular trends that supported Africa's pre-pandemic growth remain entrenched: Africa's demographic dividend, urbanisation, and the rise of the African middle-class. Technological advances will enable Africa to leapfrog and innovate. This is evidenced by the technology and venture capital ecosystems fast developing in Cape Town, Lagos, Nairobi, and Cairo. These hubs are producing home-grown technology that directly addresses uniquely African pain points. Importantly, technology and innovation are nascent in Africa and will define the future prospects of its economy.
– Gerald Gondo
Executive – Business Development, RisCura